Google Maps flybys for your novels
Wouldn't it be cool if your novels let readers go to a Google Earth / Maps flyby for all the major locations in your book?
That's what I did for some of my novels, and many readers try it after reading the books.
First, some context.
My books are in the Ancient Historical Fiction genre, and each story mixes known history (locations, characters, incidents) with a fictional story.
When I write the novel, I spend considerable time "flying" over those locations, imagining my scenes, plotting distances, observing terrains and so on. Likewise, I love to go to locations mentioned in the books I read, to get a better sense of place and situation.
Giving readers a sense of the world the novels are set in
For many of my books, I create Google Earth flybys. It's pretty simple — go to https://earth.web.com and create a project, add the locations with notes, create separator slides. I then share the maps on my site.
When readers finish a novel, they can go to the maps area and launch a presentation that takes them to each location, in chronological order (of the book), along with some notes. It's fun and informative. How do I know its useful? I see many of my readers visiting the maps pages. There is a certain thrill is looking at locations like where Cleopatra's palace may have been, or where Spartacus fought a certain battle, or where Alexander may have crossed into India, or where Cambyses' army vanished into the desert. When reading a book, it is sometimes difficult to imagine the places and distances, and maps make it a great way to visualize those journeys.
Want to take a look?
Just go to my book maps. Ideally, you'd do the flyby after reading the books (to avoid spoilers), but a quick flip can give you a sense of what it feels like.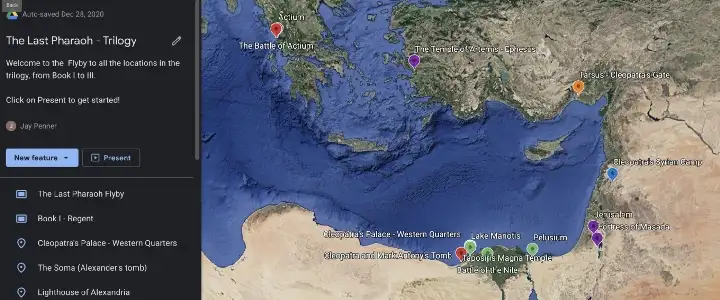 Google Earth flyby for The Last Pharaoh
The flybys seem to work best on Google Chrome and on mobile. I've observed some performance issues when on Safari.
Come on a journey!
♨ In the mood for more interesting reads?